9th Nachwuchsakademie Medizintechnik "Quantitative MRI as key technology in life sciences"
9-13 September 2019, Charité-Universitätsmedizin Berlin, Germany

Medical imaging is the backbone of modern clinical diagnosis. In current clinical practice, most diagnostic decisions are made on the basis of qualitative markers which interpretation is highly subjective and requires extensive training of professionals. A worldwide goal is to transform medical imaging into a more quantitative science. Quantitative medical imaging and, in particular, quantitative MRI is expected to allow more objective, image-based, tissue characterization towards improved medical diagnoses.

The research training group BIOQIC (Graduiertenkolleg GRK2260) together with SFB1340 (Matrix-in-Vision)  and the Department of Radiology of the Charité – Universitätsmedizin Berlin hosted the 9th DFG Workshop for Early Career Investigators in Medical Technology and Medical Physics – NAMT-2019. The topic of the workshop was "Quantitative MRI as Key Technology in Life Sciences". The scientific program gathered outstanding international experts from the field of quantitative and clinical medical imaging to teach young scientists about the current state of the art and the latest developments in MRI. The central goal of our workshop was to raise awareness for the need of reproducible and biophysics-based MRI markers. Twenty talented young scientists from all over Germany were invited to discuss and advance their own projects and to apply for research funding in the aftermath of the workshop. After the workshop, the selected scientists can apply for DFG funding for pursuing own research ideas in the near future. At the beginning of 2020, the proposals will be assessed by the DFG during a 1-day colloquium.

The organizers:
Dr. Judith Bergs (PhD)
PD Dr. rer. nat. Jürgen Braun
Dr. rer. nat. Jing Guo
Dr. Christoph Kolbitsch (PhD)
Prof. Dr. med. Marcus R. Makowski
Prof. Dr. rer. nat. med. habil. Jürgen R. Reichenbach
Prof. Dr. rer. nat. Ingolf Sack
Prof. Dr. rer. nat. Tobias Schäffter
Dr. rer. nat. Leif Schröder
Prof. Dr. med. Dipl. Phys. Matthias Taupitz
Downloads:
official DFG announcement (in German)
Program: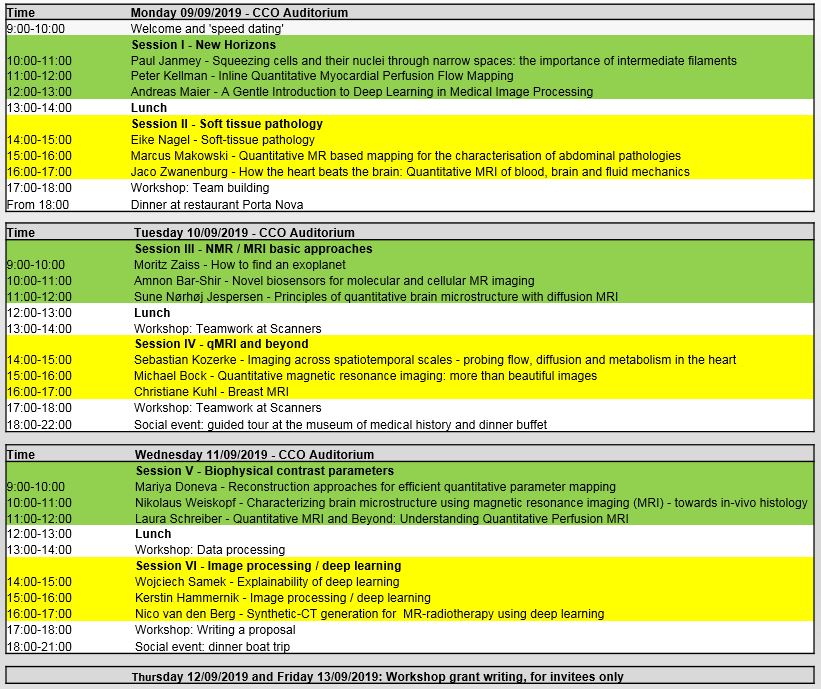 Speakers:
Amnon Bar-Shir, Weizmann Institute of Science, Revohot, Israel
Nico van den Berg, University Medical Centre Utrecht, The Netherlands
Michael Bock, University Medical Center Freiburg, Germany
Mariya Doneva, Philips Research, Hamburg, Germany
Kerstin Hammernik, TU Graz, Austria
Paul Janmey, University of Pennsylvania, Philadelphia, USA
Peter Kellman, National Heart, Lung, and Blood Institute, Bethesda, USA
Sebastian Kozerke, ETH Zürich, Switzerland
Christiane Kuhl, RWTH Aachen, Germany
Andreas Maier, Friedrich-Alexander-Universität Erlangen-Nürnberg, Germany
Marcus Makowski, Charité – Universitätsmedizin Berlin, Germany
Eike Nagel, Goethe Universität Frankfurt am Main, Germany
Sune Nørhøj Jespersen, Aarhus University, Denmark
Wojciech Samek, Fraunhofer Heinrich Hertz Institute HHI, Berlin, Germany
Laura Schreiber, Universitätsklinikum Würzburg, Germany
Nikolaus Weiskopf, Max Planck Institute for Human Cognitive and Brain Sciences, Leipzig, Germany
Moritz Zaiss, Max Planck Institute for Biological Cybernetics, Tübingen, Germany
Jaco Zwanenburg, University Medical Centre Utrecht, The Netherlands
Location:
Charité Campus Mitte, Charitéplatz 1, Berlin
9-11 September 2019, CCO Auditorium (internal address: Virchowweg 6)
12-13 September 2019, BIOQIC/BCAN seminar room (internal adress: Sauerbruchweg 4)